Friday, March 28th, 2008
Hi everyone–Linz here. I was very organised and wrote my blog in plenty of time only to find today that I could not get into Word press to publish it. I have spent several hours trying to get my problems sorted so here finally is the Friday blog on what for me is now Saturday evening.
Well, this is my first blog effort & I have bravely offered to talk about taking family/group photos. Sometimes I think I have more experience with how Not to take family photos, judging by some of the results. For those of you that don't know, I have 5 children of my own & when I met up with my husband he came with two of his own. So between us that is 7 children. That makes for a lot of people to get happy in a picture. I am not a professional photographer, but I am a passionate photographer.
When the children were small, I had a real yen for beautifully posed, angelic looking children photos, but in reality the ones that give me the most pleasure now, are the candid photos. Everyone having a laugh at something funny that happened. And of course for scrapbooking those pictures are perfect beause usually they go with a story.
I am a digital camera fan. I love digital photogaphy with a passion. In the old film days, I was lucky if I ever got a decent photo. I would pick up the photos from the developers and they would be disasters. So.. digital. We all have a camera. From Mike's Canon EOS350D, down to Ben's 'came free with a watch'. And the reality is that everyone of us has taken good pictures with their camera, because it is mostly about opportunity. Opportunity and taking lots of shots. I really believe in taking lots and lots of shots. Why not? You aren't wasting anything. The more shots you take the better the chance of a good one. When we are photographing the children, often Mike will stand in front and take photos and I will stand to the side and take more.
Now I know that we all have photoshop and can magically fix our photos these days, but it is nice to start with something decent. So first up. Background. Let me show you what we consider to be our Best ever family photos.
The kids on their own
And then all of us
We love these photos. The background is interesting, but not in your face. There was spaces for people to stand in between the roots, and we choose neutral toned clothes to blend with the natural backdrop.
I might add, that we were standing in a small grove of trees on the edge of a busy main road and Mike took the pictures of all of us on timer. So it is a tribute to how well they can come up. People kept driving past tooting and waving, it was really funny. The children had all been bribed with dinner out at a restaurant if they cooperated, and yet look there in the front row and Ben is scowling…. no problem for photoshop mum…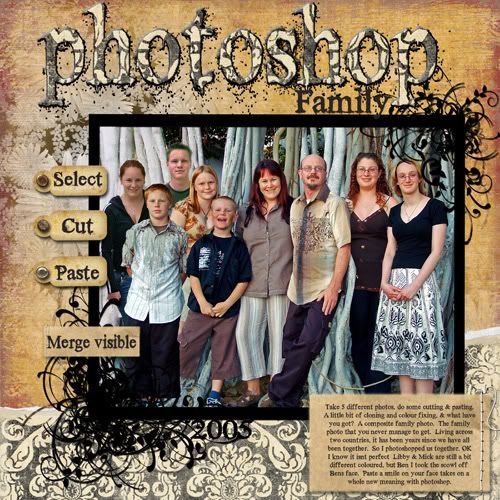 Notice Ben has a smile now, and two more kids magically added to the photo.
So… summary.
Start with good background. I have way too many photos with backdrops of the washing basket, or the dishes on the sink. If you can try and coordinate clothing, it does seem to bring the photo together nicely. Bribe if necessary for a good mood. Remember fun is often better than posed. Seize the moments… I hate to sound negative, but often when we lose loved ones, we realise that it has been way too long since we took photos with them. Take lots and lots. Try different angles, down low, up high, from the side. And finally back them up really well!