Monday, March 31st, 2008
Happy "What Matters" Monday to you, fellow ScrapMatters enthusiasts! Heather (hedderlee) here. One of my favorite pastimes as a young girl was hanging out at the local Hallmark store and perusing the boxed card section, and I poured over those cards for hours on end. Fast forward 20 years or so… I started digital scrapbooking last October, and I've been blissfully churning out my own designs similar to ones I saw during my Hallmark store wanderings! I have established myself as the resident family historian, with camera in tow to every single event, slowing down the internet connection due to all the downloading of digital products and freebies (hoard city), and having to buy more hard drive space to accomodate my insatiable need for more. It's a happy illness!!!
There is a rather dark side to my newfound hobby – I am obsessed. I guess I really should have started out this post with right hand over heart, saying, "Hello, I'm Heather, and I'm a digi scrapbooking addict." I have a rather all-or-none Type A+ personality, so I throw myself into what is set before me. But time-consuming addictions and being a wife, mother of two girls, and working don't quite mesh well… at least I don't juggle these roles well, leaving me a "master of none". There have been moments (oh heck, days) when my five-year-old would tap me on the shoulder and tell me her stomach hurt because she needed to eat breakfast… I look over at the clock and it blinks accusingly at me: 11:30am. And the one-year-old's diaper is so full that she's at least ten pounds heavier. I know, I know. Before you call Child Protective Services on me, please know that I've been reevaluating my neglectful behaviors and am no longer doing them! I love my girls more than life itself. But then I'm left throwing wistful, furtive glances at my laptop, wishing I could immerse myself in Photoshop's dreamy world… just one minute. Enter guilt, resentment, a general feeling of unfulfillment –
Dove Chocolate recently conducted a survey that found that 37 percent of women never make time to do anything special for themselves. That number increased to 46 percent for women with children. Yikes! Do we really need to completely deny ourselves to be good wives and mothers? Those numbers seem grim to me. Where can I find the happy land of Balance, where I dance with blithe joy, digi scrapping in one hand and my well-adjusted and well-fed family on the other?
I bet you're yelling at your computer screen, "Heather, it really comes down to keeping things in perspective!" I think I'm figuring that out myself. Here's a list of thoughts that have helped center me a bit: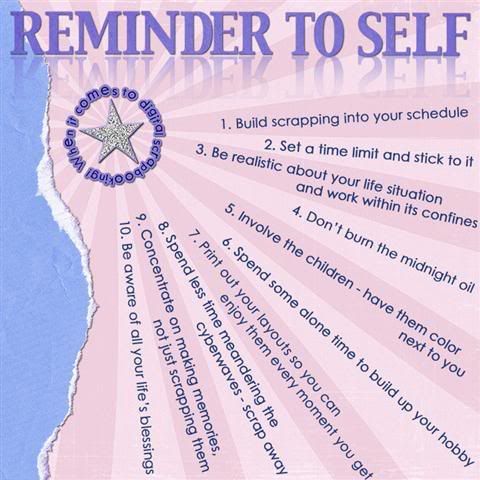 Credits – Britt-ish Designs' Dreams Do Come True Kit, Fonts: Century Gothic, 2Peas Stop Sign
Build scrapping into your schedule - Make an appointment with yourself and scrap as if it is a part of your daily work. I found this to be effective with exercising too.
Set a time limit and stick to it– I use the timer on my microwave. That way, when I tell my kids half an hour, they know I keep my word. And really, you can do a pretty good layout in that time. Or work in installments.
Be realistic about your life situation and work within its confines – I have two little children, and I want so much for them to be the best people God has meant for them to be. The first five years of a child's life is crucial to optimum brain development, and it's not the time for me to slack as a mother. Little kids will turn into teens, then adults that leave the house. Don't want to miss any of it.
Don't burn the midnight oil– The result of doing so? Illnesses, bags under the eyes, poor skin, mental fog, crabbiness, my ugly side rearing its huge head. You get the idea.
Involve the children; have them color next to you – Arm yourself with play dough and accessories, markers and coloring books, or even blocks so that your children feel a part of your life. My five-year-old loves Wedgits.
Spend some alone time to build up your hobby – Your family gets it: you're happiest when you emerge with a layout from some mind melding time with the computer. Let them know you'll need Saturday afternoon for x amount of hours. A happy mom is a happy family!
Print out your layouts so you can enjoy them every moment you get– My goal is to have them hang all about the house, like artwork.
Spend less time meandering the cyberwaves and scrap away– I can blog hop randomly until the cows come home. There goes precious time.
Concentrate on making memories, not just scrapping them– Boy, does this one speak volumes to me.
Be aware of all your life's blessings– When I do, I'm more apt to strike a good balance with my day.
So, my friends, I share my weakness with you in hopes that someone will benefit from my journey. I'd love to hear some ways you keep a good balance in your life – I'm still learning.