Wednesday, March 2nd, 2011
Hey everyone!  LuAnn here with your March Getting Hybrid Challenge!
This month we're going to be decorating candles, votive holders, jar candles and more with beautiful decorative wraps. They are the perfect way to add color or a personal touch to tables, shelves, centerpieces and more.
But most importantly….
**These candles are for decorative purposes only – please do not ever light a candle that has paper and other flammables on/or near it**
Here is my candle sporting a gorgeous new wrap using Jady Day Studio's collab kit with KimB's Designs called What Matters Most.
and a close up of the details:
So let's get started with how to make your own candle wrap!
Supplies:
Epson Matte Presentation Paper
embellishments of choice – buttons, ribbon, brads, punches, flowers, dies, ink, pop dots, 3D foam squares, etc.
double sided tape (or other adhesives of choice)
1.  Measure around your candle – allow for an overlap.  Determine how tall you want your candle wrap to be.
(My candle is a 6 inch pillar – my wrap is going to be 9 1/2 inches wide by about 3 1/2 inches tall)
2.  Create your candle wrap using a photo editing program of choice.  I'm using Jady Day Studio's What Matters Most digital kit.
3.  Determine if you want your candle wrap to be all digital including shadows or if you want to print each layer of your wrap and then assemble true "hybrid" style.
(I decided to print my paper layers separately.)
4.  Determine how you want to decorate your candle wrap – now don't panic!  Just think of it as a long narrow layout that you will print out and wrap around a candle. 
5.  Print your wrapper and/or the pieces to your wrapper on matte presentation or matte photo paper using your printer's best print option.
6.  I distressed the edge of my patterned paper and used a lacey border punch on the cream colored plain paper and inked the edges. I adhered the lacey punched papers to the back of the edge of the patterned paper.  After wrapping my papers around my candle, I used double sided tape on the overlapping area to secure the wrap.
7.  To create the flowers, I printed some square blocks of the solid pink and solid cream digital papers in the kit.  Using my Big Shot, I die cut some Cherry Blossom flowers.  I also die cut a butterfly from the solid pink digital paper and added two small crystals to the center of the butterfly.
8.  After inking the edges, I punched two small holes in one petal of each of the pink flowers and two small holes in opposite sides of the cream colored petal.   I used twine to create a cross stitch to attach the flowers together.  Then I added a flat back pearl to the center of each flower.  The pearls were a little too white in the middle so I lightly dabbed the pearl with the same ink that I used on the edges of the flower.
9  The flowers and butterfly are attached to the candle with 3D foam squares.
And there you have it – a beautiful candle perfect to display or give as a gift!
How about some inspiration from the team?
Cathy (Scrappycath) created this beautiful jar candle wrap using Thankful for you by Mye De Leon:
Jewelle (jubeejewels) created this fun candle wrap using So Silly by Amy Stoffel:
Amanda (Abhall76) created this gorgeous wineglass lamp shade which uses a battery operated tea light – she used Zen Garden by Inspirations from Day: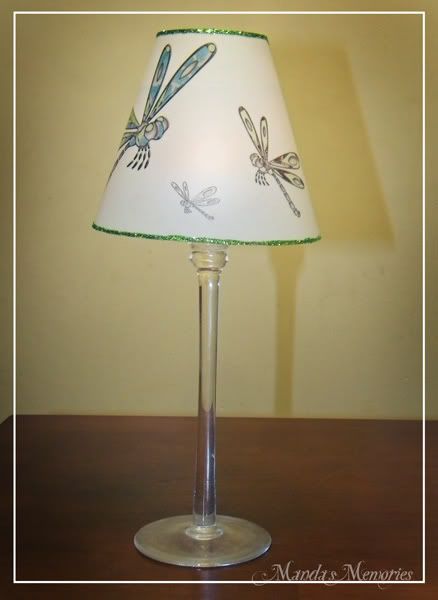 **Again…This candle is for decorative purposes only – please do not ever light a candle that has paper and other flammables on it**
Here are the ScrapMatters challenge guidelines:
- Entries must be posted in the Getting Hybrid challenge gallery HERE and also linked up in the comments section of this post.
- You will have until the end of March to complete your project
- You'll get 1 point for designing, printing and putting together your project, and then posting the photo of it in the gallery. You will get a bonus point if you use a new release within one week of it's release to complete your project. You must mention that you used a new product in the comment section of this post to get the bonus point!
I can't wait to see what you create so be sure to link me up so I can leave you some luvin'!!!
LuAnn