Friday, March 25th, 2011
Woo Hoo! Tiff here with my very first challenge… hopefully you like it as much as I do!
The instructions here are for Photoshop, The techniques may be slightly different depending on your program.
Find something you'd like to make into a sticker. For my page, I extracted myself out of a picture, but you could do any element, draw a shape and clip something to it, or even make your own word art for a title. Just use the type tool and then rastersize the type.
1. Add a stroke. Click the little fx icon at the bottom of the layers palette, and choose Stroke. (My background is blue so you can better see the stroke).
2. I chose 35 px, an outside stroke, and I changed the color to pure white. Just click on the color box and choose your color.
3. If we just added a drop shadow, it would be hidden under the stroke. We need to make the stroke part of the original layer. Check to see that your original layer is chosen, and then go to Layer > Layer Style > Create Layer. Now you should have two layers: one being your photo/element, and the other is the stroke.
3 a. I forgot to get a print screen of this, but you need to combine the two layers into one. Click the top one (mine is the photo of me), and hit Ctrl + E. It will merge the two layers into one.
4. Now add a drop shadow. (Click the little fx at the bottom of the layers palette again and this time choose drop shadow.)
Now just drag your "sticker" layer into your layout.
Here's my finished layout:
(using BFF by wm[squared])
And here's another one I did – this time changing the colors of the stroke:
(using Couch Potato by Jennifer Labre and Vintage Summer Bonus Alpha by wm[squared])
Here is some more amazing inspiration from the lovely creative team:
Kendall (kendallt) made her title into a sticker to help it stand out a little more:
(using Spring into Easter by Jady Day Studio & Sweet Spring Templates 1 by True Blue Studio)
Amanda (dznyscrapper) made her title and date into a stickers, and I love how even a small stroke and drop shadow can makes them stand out:
(using XoXo by Amy Stoffel, Handwritten Dates by Haynay and Just 4 Mom Templates by KimB)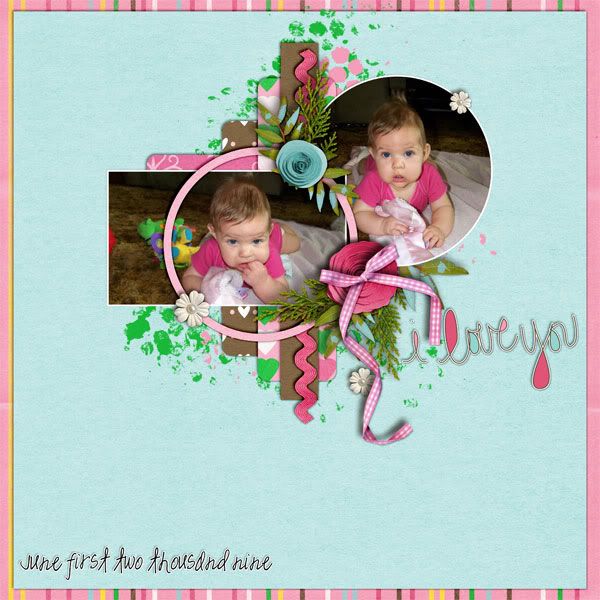 Are you inspired to make some stickers? I can't wait to see them… And if you have any questions… don't hesitate to comment or PM me! I'm happy to help!
Challenge reminders:
-You will receive one point for posting in this thread & in the Saturday Special gallery. You can receive an additional point for using new Scrap Matters products; please make a note of new products in your post. And at the end of the month you'll be entered into a random drawing that could earn you some bonus points!
-You have until the end of March to complete this challenge for March MOS points or wait to post in April for April MOS points!
-Remember no double dipping…your photo and/or layout must be unique to this challenge.
-You don't have to use Scrap Matters products, but we love it when you do!