Sunday, April 1st, 2012
e
We would love for everyone to get to know on of our CT Members, Isabel (Leandi), a bit better!  Here's what she had to say when asked a few questions:
1. Your screen name? Your real name? My name in the www is always Leandi and my real name is Isabel.
2. What is your main job/career? I´m a fulltime housewife.
3. Are you married/children/pets? I´m not married. My man and I have 5 children. We also have a Guinea-pig, a fish, and a frog.
4. Where is home for you? My home is in Germany.
5. What are your 3 favorite foods? Oh 3 hmm!! I eat many foods, but I love cakes, noodles and meats in different preparations.
6. What is your favorite flavor of ice cream? Chocolate
7. Snacks…Salty or Sweet? Oh I love sweets. My favorite is chocolate. Often, I sit at my PC with this.
8. Beverage of choice? Oh I love coffee; my favorite is Latte Macchiato with caramel syrup or choco chookie.
9. What's your least favorite food? Croissants
10. PC or Mac? I use a PC.
11. How long have you been digi-scrapping? How did you get started? I started at the end of 2006. I had my son in the middle 2006 and in the Forum were many girls who did scrapbooking!
12. What was your first LO about? I don't have my first page, but this is one from my first time I used a kit.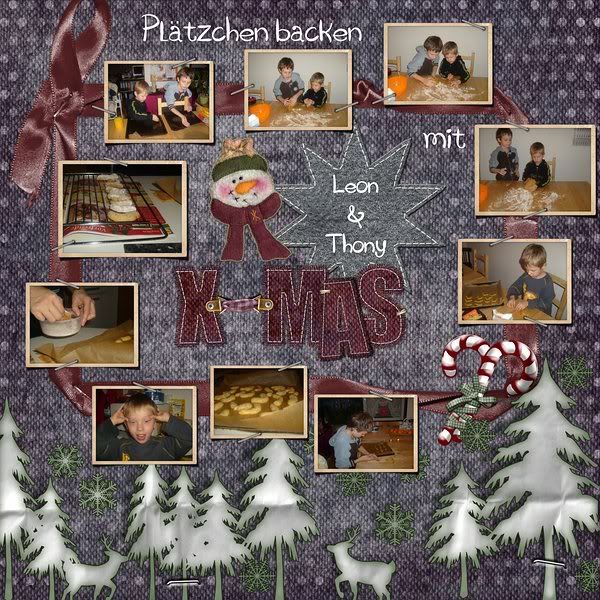 13. Do you have any other hobbies besides digi-scrapping (are there other hobbies)? When I have time, which is a rarity, I read books. I like vampire stories.
14. What is the most challenging part of scrapbooking for you?
I can't think of a challenge but I try hard to always achieve the best.
15.  What would you like to learn to do (or do better) not related to scrapbooking? I think I could improve my shadows and my cluster work. I love to see many scenes on pages but mine could be improved.
16. What are your favorite movies/TV shows? Twilight or Vampire Diaries
17. Describe your "scrapping" environment. Music? TV in the background? Drinks? Snacks? Where? When I scrap in the morning, I drink my latte. In the evening, I eat chocolate or chips and drink water or sometimes a beer with cola.
18. If you only had two elements to use on a LO, what would they be? A flower and a mask.
19. Would you like to share a little known fact about you…? Hmm, I don't have that much more to say about myself. We live here in Germany and my days are often very stressful with my five children. I´m a little bit crazy – laugh – to manage my hobby with Ct´s and my real life, but I love this so much!
20. Can you tell us a little about your scrappin' style? I don't have a special style. I can scrap pages with many different styles.
21. Favorite LOs that you have done? That´s hard to choose one page, but this I love this one.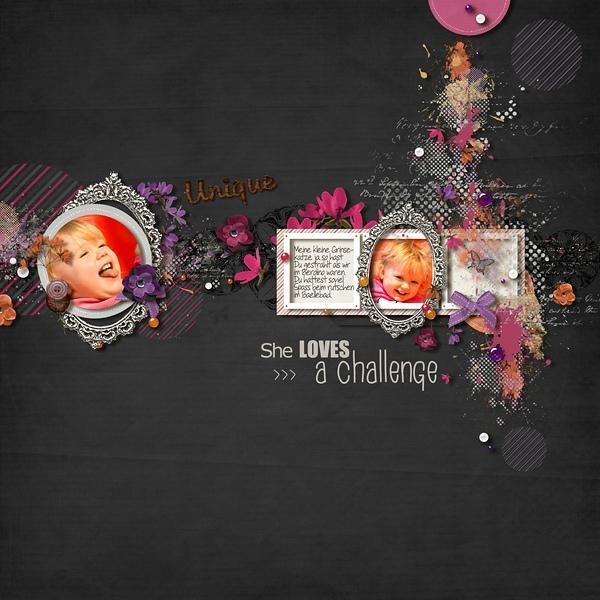 22. What is your favorite childhood memory and have you scrapped it? I don't have a page but my favorite childhood memory is when I started to walk. I was 3 years old and my mom started to cry because I was very sick as a child. I had operations on my leg.
Thanks so much, Isabel!!  We love getting to know our members at SM! =)
Carol (Iowan)